" Special Fossil Stone Pendant For Ladies "

Surely the desire to look beautiful, attractive, and fascinating is  every woman's dream. To complement in support of your beautiful appearance, we present a unique fossil stone pendant, which is the right choice for you.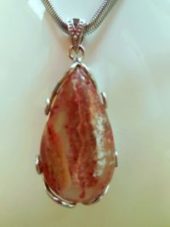 Inner Beauty Pendant as a symbolized of successful female beauty, its has been specifically empowered to help activate your inner aura of beauty, eliminates negativity inside and outside, provides an impressive charm appeal. This pendant is highly recommended used for profession : actresses, modeling, celebrities, public speakers, presenter, consultant, marketing, entrepreneur or any profession that wants to look beautiful and attractive. Wear it and find that passion, that makes life wonderful.

The benefits of this pendant :
– It helps to bring clarity and truth to your intention, personal magnetism, empowering and motivating you to manifest your dreams into reality.
– It removes all energy blockages to infuse your life with luck.
– it brings confidence, creative ideas, leadership and awakens hidden talents.
– It powerful manifesting tools for prosperous life, living in harmony and endless opportunity. Etc.
The description of item as below :
*  It comes with unique spirits.
*  The real natural power of fossil stone pendant.
*  It's so easy wearing, no side effects, there is no abstinence, free for all religions and provide many benefits.
*  Bonus : Aromatic oil for increasing it's power and A Pair of Living Grass " Buluh Perindu " Kalimantan Forest.
*  Guidance : Instruction manual paper for user.
*  This type of  item is only one available.
*  Free Shipping by EMS International.
Sku

JTP - 0117 B2

Description

Inner Beauty Pendant Type B2 JTP - 0117

Product Options

| # | Option | Price |
| --- | --- | --- |
| 1 | Inner Beauty Pendant Type B2 JTP - 0117 | $288.00 |

Shipping

Shipping Rate:
Related posts: